'Elohi' is the name given to a complex of new homes built in Caransebeș, a town south-west of Romania, in 2017.
Ten vulnerable families have found a new home in this "family assistance and social integration centre", as it is defined. The housing complex was started by the Jesus Christ Living Hope Ministry, in collaboration with Caransebeș City Hall, the building company TMD Friction, and the support of Bethel Fellowship Mission, in the United States.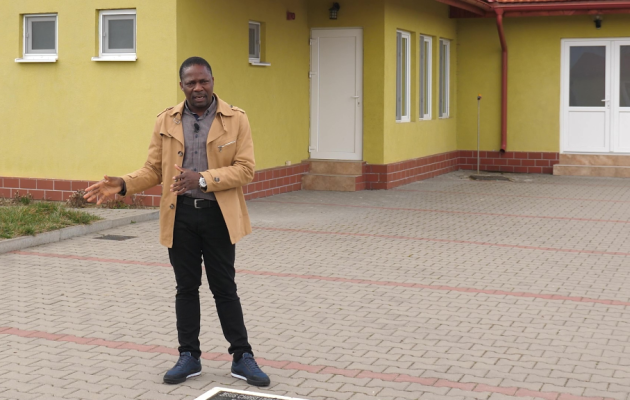 Charles Nzekwe, in the Elohi complex. / Photo: AO TV.
The President of Jesus Christ Living Hope Ministry, Charles Nzekwe, says everything started after a personal experience and prayer. "When I came to Romania, I lived on the streets for 7 months and saw how hard it is for the homeless people who don't have a place to sleep, he told Romanian broadcaster Alfa Omega TV. "And so, God guided me. I talked with those from our association and God lead us to build a center where people in need can rest and have a home".
Now, ten families live in these five double houses, with a total of 24 children. They were selected after a social research project. "We did the investigations all over Caransebeș. We visited at least 100 families. We collaborated with the City Hall and they gave us very long lists. We had to see what families were in the worst situations and choose them", says Nzekwe. Among those using the facilities are Orthodox Christians and also evangelicals.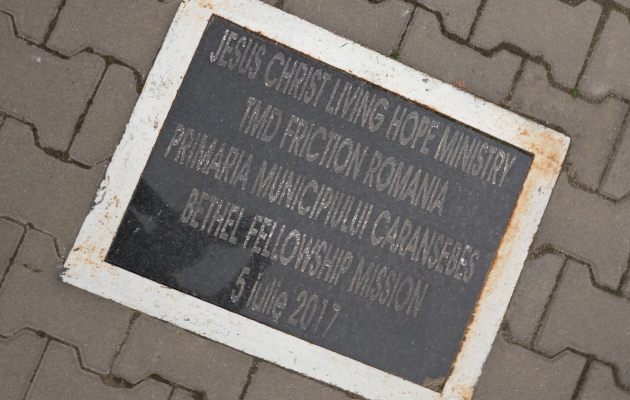 The organisations involved in the project, in a plaque on the ground. / Photo: AO TV.
Ilie Cuzma, also a member of Jesus Christ Living Hope Ministry, says it was "very hard" to decide what families would be given the chance to access one of these homes. "We had a family with 4 kids that didn't have electricity in their house and on a wall of the house water was pouring inside".
To be accepted, certain conditions were established. "We don't offer food, and the people accepted this", the promoters explain. "And for each family it is mandatory that at least one person should work. God spoke to us to do this way, that each family has to take care of their children, their chores, their responsibilities".
In the process, "God has worked miraculously", Cuzma says. The initial idea was to build 6 small studios. "We went with this project to the TMD Friction company, they studied it carefully and proposed to make it bigger, more complex – to make it the right way".
A place for families to thrive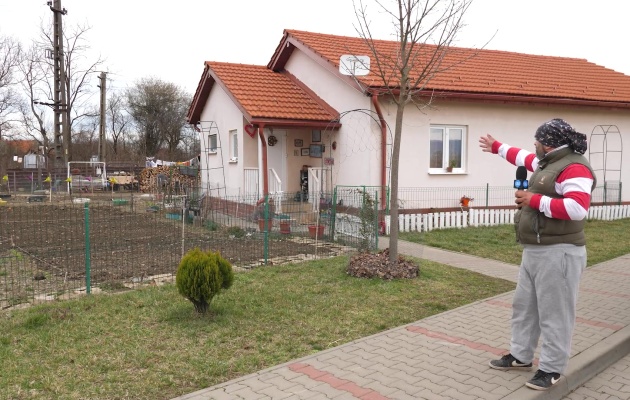 Simon, one of the beneficiaries, points to his family's new home. / Photo: AO TV.
Simion Neamțu, the father of one of the families who are now living in 'Elohi', told AO News TV: "Since we are here, we have a better life. Personally, I developed so much, I got my driving license and a car. My wife had a surgical operation, with the help from the Center. We all received big help, that only God could have given to each one of us. What you see here is my house, it has 3 rooms, an attic in the backyard and it has its own power plant. Behind the house we have animals, chickens. In the garden we planted onions, potatoes and radishes".
Ana Mihaela Cinca, another resident says her family has been living in one of the houses for 5 years already. "When it comes to our family, it's a long story, but I will just say that God is the one who is at work when we ask Him to help us", she says.
Local authorities support the project
The City Hall of Caransebeș contributed to the housing project with a land of 10,000 square meters. Felix Borcean, mayor of Caransebeș, says: "I thought it's a very good idea. Beside the land, we also helped them secure the access to the water network, the electrical network, and so on. This piece of land is located right at the entrance of Jupa village, which belongs to our city".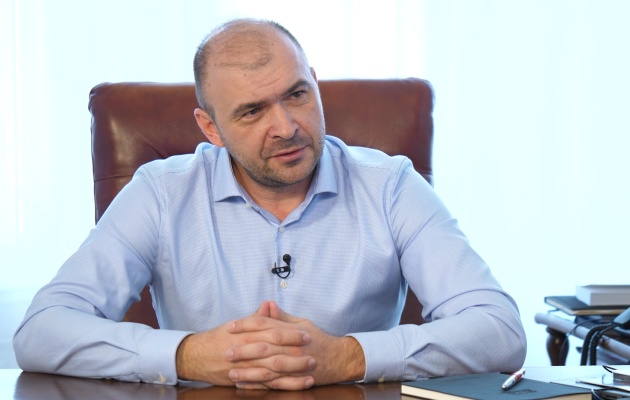 Felix Borcean, mayor of Caransebeș, speaking about the Elohi complex. / Photo: AO TV.
Borcean underlines the cultural and religious heritage of the region. "We have a rich tradition: old schools, churches that were built along time and some of them were built in the last years, It's a multicultural, multi-ethnic and multi-religious community".
Text preluat integral de pe site-ul evangelicalfocus.com
https://evangelicalfocus.com/cities/21809/christians-in-romania-build-houses-for-vulnerable-families-in-partnership-with-local-city-council